Whether you're playing FIFA Ultimate Team or keeping it traditional with career mode, having
a formidable striker up front
is a necessity. Beyond the known to all
Cristiano Ronaldo
and
Robert Lewandowski
, there are still plenty of incredible forwards in world football for your option and having any one of those outstanding players in your team would also be invaluable on Ultimate Team and Career Mode. Therefore, here on this page, our website:
mmopm.com
will be listing FIFA 19's top 10 players in
offline and online Career Mode in Ultimate Team
.
When you choose the striker, make sure to take also look at the specifics depending on what you want out of them, beyond the obvious points of Finishing, and Long Shots, and think about aspects like Ball Control and Short Passing if you prefer to play with two up top, or Heading and Strength if you like a big target man who's a threat in the air. Now the following are some of the top strikers you should try to sign on FIFA 19 .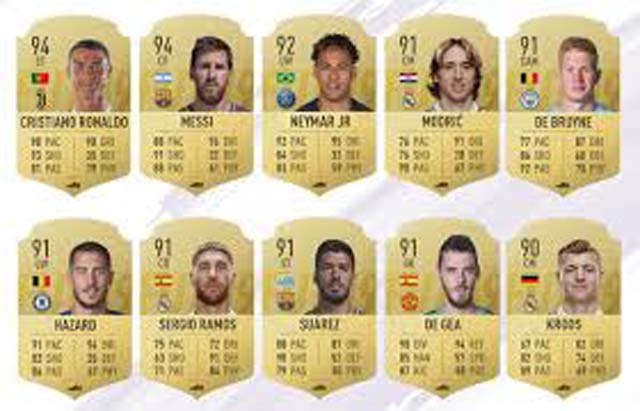 Cristiano Ronaldo (Juventus) Overall rating: 94 Finishing: 94
Unsuprisingly Cristiano Ronaldo is the most lethal striker in the game (other than Icon cards Pele and Ronaldo Luís Nazário de Lima). In total, eight of the Portuguese's stats rank in the 90s, including positioning, finishing and composure.
Luis Suarez (Barcelona) Overall rating: 91 Finishing: 94
Though the Uruguayan has been downgraded form 92 to a 91 rating, it's hard to find any flaws in the Barcelona striker's stats. An Ultimate Team squad featuring Suarez and his countryman Edinson Cavani would certainly be formidable. If you want to try this striker, you can buy
Cheap FIFA 19 Coins
from our website:
mmopm.com
, a trustworthy, cheap online in-game currency store.
Robert Lewandowski Overall rating: 90 Finishing: 91
There' s a lot to like about Robert Lewandowski's stats this year, in particular his 90 reactions and 89 ball control will see him be a popular choice among Ultimate Team players this season.
Sergio Aguero (Manchester City) Overall rating: 89 Finishing: 93
For the third year running Aguero has been rated an impressive 89. The Argentinian featured in five TOTWs last season due to his pivotal role in returning the Premier League title to the Etihad Stadium.
Edinson Cavani (PSG) Overall rating: 89 Finishing: 89
Edinson Cavani saw off competition from teammate Neymar to finish top scorer in Ligue 1 last season. The Uruguayan's efforts have seen him earn an 89 rating.
When choosing your strikers in FIFA 19, there's other factors you should bear in mind. For example,which mode you are playing and what formation you're playing. As with career mode,aside from those classic elite players, you should also pay emphasis on youngsters who have huge potential, since some players have higher built-in potential for growth than others and could have a major impact on your squad. So choosing some of the finest young strikers and upgrading them is also recommended herein.
As with Ultimate Team mode, when choosing your strikers, you can use Chemistry Style to help you choose a more suitable strikers for your team and increase your team chemistry rating. Last one more note, you should also choose your strikers according to your preferred playstyle, since some strikers work better than others in certain formations and styles. So, choose wisely and flexibly, and build a unstoppable team!