FIFA 19 TOTW 9 Confirmed: FUT Team of The Week Includes Cavani, Reus, Silva And More
As always, EA Sports has just the released
the lineup of the latest TOTW 9 on Wednesday
based on the players' performance last week. This week, Footballers
David Silva and Cavani
are the latest members of a FIFA 19 Team of the Week, both of which are now both available
with 90 overall ratings
as part of the team. Both Cavani and Silva have been on fire of late. Silva has scored sparkling goals in each of City's last two matches and Cavani is coming off a hat trick against Monaco. Besides, Marco Reus also on the list this week, with an overall rating of87, the next best of any player among the starting XI. For the entire squad, just check the image below.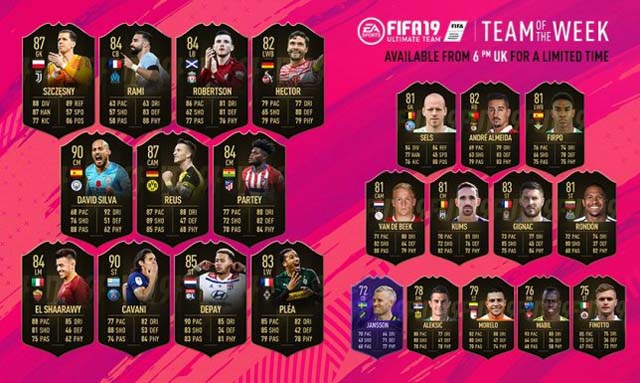 The notable highlight of week 9 is that this week's squad is anchored by two 90 overall-rated players in Paris Saint-Germain's Edinson Cavani and Manchester City's David Silva. As the key contributors in recent wins for their respective teams, Silva scored in his team' s 3-1 win over Manchester United. Meanwhile, Cavani achieved a hat-trick in his team' s win against Monaco. Aside from the two superstars, Former FIFA cover athlete and Borussia Dortmund star Marco Reus found a spot with an 87-overall card. He has had strong showings and scored one of the Top 5 goals from Matchday 11 in Bundelisga.
In addition to the 11 starting players, there are a handful of substitutes and reserves available this week. Some of them are also worth your attention and could be invaluable to your team. All those bench players are rated at 81 overall, except that Tigres UANL' s Andre-Pierre Gignac is ranked 83 and Almeida at 82. For more substitute and reserve players, check the video below.
TOTW cards are available for gamers from November 14 to November 21. want to catch one of those players, you can buy
Cheap FIFA19 Coins
from our website:
mmopm.com
, a safe, cheap online in-game currency store. Besides, it is a routine that players can receive rewards at the end of each week based on their rank in their division. This week, the FUT Champs rewards will be available from November 15 around 6pm. Players will be able to choose what type of rewards they want and the higher their the rank then the more options they get. The choices can vary between coins, tradeable packs, untradeable packs and FUT Champions points. So it's time to beef up your team with those elite players to earn those rewards.
Another big news coming to FIFA 19 FUT recently is that EA Sports launched a new campaign " Road to The Final" for the UEFA Champions League and Europa League. The campaign allows gamers to get special "Dynamic Player Items" for UEFA Champions League or UEFA Europa League. There' s 21 UEFA Champions League Dynamic Items as well as 4 of them for UEFA Europa League. The 21 UEFA Champions League Cards are available through FUT packs. However, the four UEFA Europa cards are going to be available through Squad Building Challenges (SBCs). Players will get upgrades throughout the campaign at different stages for their teams. To buy FUT packs, you can come to
mmopm.com
for
Cheap FIFA 19 Coins
.