The November Title Update for Madden NFL 19
has arrived on November 20. The latest changes address a variety of aspects in the game. They range
from things as small as menu improvements to important updates as improvements of both Franchise and Madden Ultimate Team (MUT) mode
. All these changes aims at better soccer experience for players. Here is a rundown on the key changes that gamers will see in Madden 19 for the new update. At the moment, the update is available and gamer can have Madden 19 game updated on their console.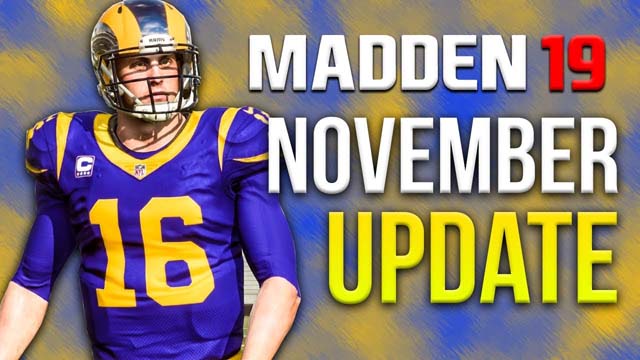 First, let's walking through some big changes in the latest title updates. There are some key updates within both Franchise mode and MUT mode. First, Franchise mode now has various menu improvements, while SuperSim includes improvements for time management. The dev team also made fixes for the draft clock display during the draft and various "rare freezes" in the game. They also addressed stability issues gamers might see the week after the draft.
In Madden Ultimate Team, gamers can now play MUT Squads as a duo. The developers noted that when using the Duo aspect, selecting an Offensive and Defensive Captain will be necessary. The Head Coach responsibilities are controlled by the Defensive Captain.
Also in MUT, the dev team fixed the logic used for giving out Super Bowl MVP and for CPU drafting a first-round running back. These were just some of the highlights as the Madden 19 patch notes.
Aside from key changes in major mode of the game, there are also some miscellaneous changes worth your attention. It is the first time to see the Madden Dev team been able to support playbacks in their Title Updates. Besides, there are also some improvements to CPU-controlled ball carrier logic and Zone Coverage.
Further, Pass Blocking also receives some big changes. Since QB Contain assignment is originally aiming at countering QBs scrambling outside the pocket while not being a pass rusher, to support the intent, the technology team has made tuning changes to force them to rush wider, as well as continue to play contain in cases where they cannot be blocked by the offensive line (which means they will not rush the QB after a few steps if they are not blocked, but will continue to break on scrambling QBs when in the contain assignment). If you want that player to rush the QB for the entirety of the play, he needs to be assigned a pass rush assignment via either play call or a hot route. here are all the key highlights in the latest November updates. For more specific updates of other aspects, you can check the video above.
Recently, Harvest: Turkey Bowl is diving back into Madden Ultimate Team, with more content to boost your Ultimate Team roster, ways to earn new players, and dominate the gridiron competition. It is a rare chance for gamers to assemble the best NFL squad imaginable from a wide variety of current legendary players, with Chicago Bears legendary running back Walter Payton and New York Giants defensive powerhouse Lawrence Taylor being the best two favorites. So want to beef up your roster, don't miss out. And for more
Cheap Madden NFL 19 Coins
, come to
mmopm.com
.