EA Sports Released The Thanksgiving Program Titled Harvest: Turkey Bowl in Madden NFL 19 MUT
To celebrate the upcoming
Thanksgiving Day
, EA Sports is once again holding a
" Harvest: Turkey Bowl" program in Madden 19 Madden Ultimate Team
to add some festive fun for football gamers. This year, EA is promoting it as having even more content than before along with more players, featuring
Walter Payton, Lawrence Taylor and more.
The event runs from from November 16 to November 30. during the Harvest event, gamers can boost their Ultimate Team roster, ways to earn new players, and dominate the gridiron competition. Now let's dive into all details of the festive sports event.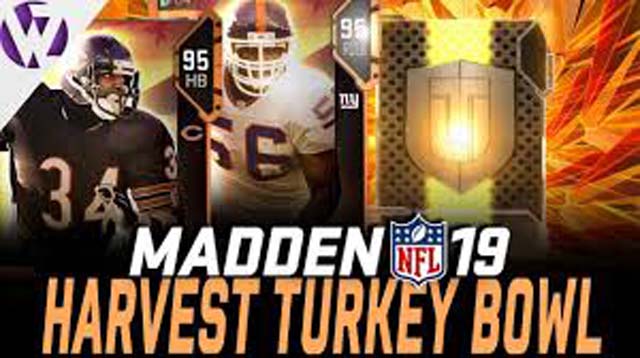 The basic of Harvest: Turkey Bowl
For those new to Ultimate Team, The Madden 19 Harvest Turkey Bowl is a special Madden Ultimate Team event within the game, which enable gamers can assemble the best NFL squad imaginable in Madden NFL 19 by completing some challenges. To be specific, during the period, gamers can complete different challenges for a limited time. By doing so, they can earn Turkey Flyers or Coins. These items can purchase NAT players which gamers can add to their Ultimate Team rosters for a nice boost. Those players range from current NFL Pro Bowlers to legendary Hall-of-Famers. Anyone of them would be invaluable to your team. To unlock these greats, you can buy
Cheap Madden NFL 19 Coins
from
mmopm.com
, a reliable, cheap online in-game currency store.
This year's Turkey Bowl has a theme where gamers are going from stadium to stadium in search of players to boost their lineups. A Turkey Bowl victory is the main goal for the competition.There will also be some new items in this year's Madden 19 Harvest Turkey Bowl. These are the "Turkey Bowl Tailgaters" which have specific icons based on "pre-kick off activities." The icons attached help indicate which players are able to go for upgrade items. Gamers can also assemble sets of Four Gold Tailgaters and Four Elite Tailgaters. These will be usable for an Offensive or Defensive All-Star. There are 32 Tailgaters spread across eight different groups. There are also Turkey Trotters who will be players that have changing ratings within the competition.
Madden 19 Harvest Turkey Bowl star players
Legends and star player acquisitions are a big part of this year's Madden Turkey Bowl event. Two of those players are not only Madden community favorites but are two of the best players the NFL has ever seen: Chicago Bears legendary running back Walter Payton and New York Giants defensive powerhouse Lawrence Taylor. With stats like theirs, it should go without saying how impactful these guys can be to your roster. Aside from the two legends, some other best talent in the game today will be featured with a batch of 93-rated players. Those players include, Adam Thielen, Patrick Mahomes , Alvin Kamara, Jurrell Casey, Jason Peters, and so on.
At the start, you only get lower-rated versions of these greats. However, by completing Solo Challenges or even acquiring players through Packs, you can get those players upgraded with a 95 OVR, the Turkey Bowl MVP versions of these greats, so that you can get yourself an unstoppable team on the field. To buy more packs, come to
mmopm.com
for Cheap Madden 19 NFL Coins.