Recently, the famous football video game
NBA 2K Series
released some player ratings of
NBA2k19
on its official Twitter. And this is the list of NBA 2K19 overall player ratings released by now:
LeBron James, Lakers — 98
Kawhi Leonard, Raptors — 94
Anthony Davis, Pelicans — 94
Karl-Anthony Towns, Timberwolves — 91
DeMarcus Cousins, Warriors — 90
DeMar DeRozan, Spurs — 89
Jayson Tatum, Celtics — 87
Donovan Mitchell, Jazz — 87
Ben Simmons, 76ers — 87
From the list, we can find that the rating of
Davis
that the NBA 2K Series given is 94, and it also gave a topic that "
Is Team 2K player and Pelicans superstar AntDavis 23 thebest big man in the league?
" And there are many fans view that this rating is too low for Davis and 96 maybe is an appropriate rating for him.
With regard to the performance of Davis, Davis is capable of defense and attacking, and he has quickly become the most promising player in the NBA. Davis was selected first overall in the 2012 NBA draft by New Orleans, is a five-time
NBA All-Star
, and has been named to three All-NBA First Teams and three NBA All-Defensive Teams. He also earned a gold medal playing with Team USA at the 2012 Summer Olympics. In The Journey, his averages were 23.4 points, 10.3 rebounds, 1.9 assists, 2.4 blocks and 1.3 steals. And in the previous season, Davis averaged 28.1 points, 11.1 rebounds and 2.6 blocks per game, making him the league's most blocked player.
Karl-Anthony Towns
of
Timberwolves
is also get a points over 90. He scored 91 points at NBA 2K official Twitter, which up one point from the previous score. Towns is also a top scorer and he has spent three seasons in the NBA, in which, he get an average 21.6 points, 11.7 rebounds, 2.4 assists and 1.4 blocks per game. Comparatively speaking, the strength of Towns is the attacking side, while defense is his weak side.
On July 23, 2018, the rating of
DeMarcus Cousins
who joined the warriors this summer was also announced. He scored 90 points. And by the way, NBA 2K also give a question that "
Will this year's Warriors Team be better than the last?
"
In The Journey, Cousins averaged 21.5 points, 11 rebounds, 3.2 assists, 1.4 steals and 1.2 blocks per game. In the last season, with a serious Achilles tendon injury, he ended the season early, and his performance averaged 25.2 points, 12.9 rebounds, 5.4 assists, 1.6 steals and 1.6 blocks per game.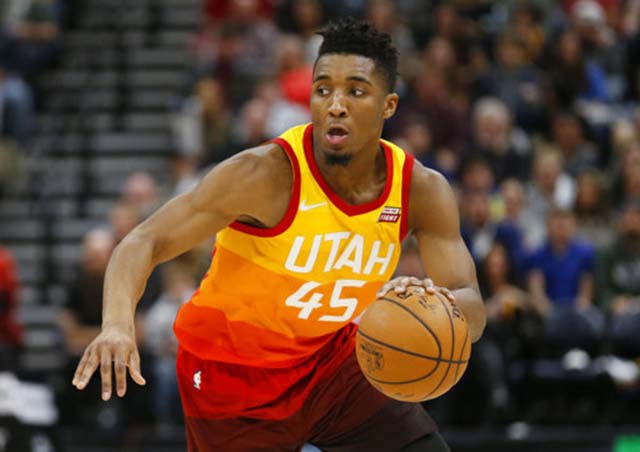 However, just as there are many fans question the points that NBA 2K gave to Anthony Davis, the Young stars like
Donovan Mitchel
l and Karl-Anthony Towns are also wondering how the game developers at 2K Sports landed on their particular ratings. And as usual, "NBA 2K" digital marketing director Ronnie Singh, also known as "Ronnie 2K" on social media, is already receiving the blame. On July 20 and 21, both of Donovan Mitchell and Karl-Anthony Towns published a Twitter respectively and question the score that NBA 2K gave to them.
Nevertheless, there is no need to complain. "NBA 2K" allows players to improve as the season goes along based on actual performance, so these initial ratings are far from final.
"NBA 2K19" will be released on Sept. 11 around the world and the special edition will allow you to play starting Sept. 7 with your pre-order. Now, it is the high time that you can buy and store some coins and I believe our
mmopm.com
is your best choice. We will provide you the
Cheapest NBA 2K19 MT Coins
with
100% secure payment and quick transaction
. By the way, if you have any question or some unsatisfying place, you can contact us anytime. It is our pleasure to answer your question and resolve the problems for you!