Jarome is a Canadian professional ice hockey player. He has player 20 NHL seasons as a forward for the Ca lgary Flames, Pittsburgh Penguins, Boston Bruins, Colorado Avalanche and Los Angeles Kings. Among these 20 seasons, 16 of them Iginla played for Flames. And on July 30, in a press conference of Calgary Flames, Jarome Iginla will announce his retirement.


"In a sense, I grew up there,'' Iginla told the Flames website. "I started playing for the Flames at 19, but even in minor hockey I remember traveling to Calgary for tournaments, from St. Albert, and I imagined playing in the Saddledome." "It's been a fun adventure for my family and I. Some great cities, great people. To be back in Alberta, though, will feel like home."
Iginla was the captain of the Flames from 2003-13 and helped them reach the Stanley Cup Final in 2004, when they lost to the Tampa Bay Lightning in seven games. He is also their leader in goals (525), points (1,095), games played (1,219), power-play goals (161) and game-winning goals (83), and ranks second in assists (570) behind Al MacInnis (609).

Iginla won the Ted Lindsay Award as the NHL's most outstanding player as voted by members of the NHL Players' Association in 2002, when he had 96 points (52 goals, 44 assists). He won the King Clancy Award and NHL Foundation Player Award for leadership in the community in 2004.

Iginla was named an NHL First Team All-Star three times with Calgary (2002, 2008, 2009), and won the Rocket Richard Trophy as the NHL's leading goal-scorer twice (2002, 52 goals; 2004, 41 goals). He played in the NHL All-Star Game six times (2002-04, 2008-09, 2012) for the Flames.

"If you said when I started that I was going to play 20 years, experience what I have, I'd have taken it in a heartbeat," Iginla said. "I did the best I could, played as hard as I could." "I don't sit here now and think, 'Man, it flew by. I wish I'd enjoyed it more.' When I started, you have a dream about making in the NHL, how good it's going to be and what it's like. I enjoyed it while it was happening."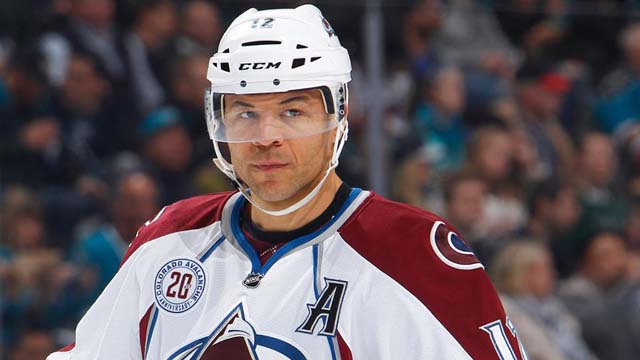 Iginla was traded from the Flames to the Pittsburgh Penguins on March 28, 2013. He played the following season with the Boston Bruins before signing a two-year contract with the Colorado Avalanche on July 1, 2014. Iginla was traded to the Kings on March 1, 2017.

"When I was traded from Calgary, I must admit, I had to catch myself a couple times," Iginla said. "I didn't want to be crying. Nothing against anybody who cries, understand ... but it was emotional. The closing of a neat part of my career, a long part of my career."

Iginla last played in an NHL game with the Los Angeles Kings on April 9, 2017. He scored his 1,300th NHL point with an assist in a 4-3 loss to the Anaheim Ducks at Honda Center. Iginla finished his NHL career with 1,300 points (625 goals, 675 assists) in 1,554 games. He ranks 13th in games played and is tied for 15th in goals with Joe Sakic.

Although Iginla is going to leave NHL, there are still many excellent player in NHL such as the cover athlete of NHL 19,
P.K.Subban
. And now, it is the high time for you to buy and store some NHL 19 Coins. And if you want to buy FIFA 19 Coins with a cheaper price, I think our
mmopm.com
is your best choice. In our website,
Cheap NHL 19 Coins
is provided with
100% secure payment and fast transaction
. And if you have any question about us or the products that we provide, you can contact us anytime. It is our pleasure to answer your question and resolve problems for you!