On July 31, NBA 2K announced on social media that Milwaukee Bucks superstar and NBA 2K19 Standard Edition cover athlete Giannis Antetokounmpo who is also called Alphabet 2.0 for his long name, will be rated a 94 overall in NBA 2K19 when the season begins.

By now, among the players whose rating have been released, the player who own the highest score is LeBron James from Lakers with a rating of 98. And then, the 94-overall rating ties Antetokounmpo with the New Orleans Pelicans' Anthony Davis and Toronto Raptors' Kawhi Leonard for the second-highest-overall rating. Antetokounmpo has become one of the NBA' s best players.

As it stands, Antetokounmpo is the only power forward to have his overall revealed, unless you consider Davis or
Karl-Anthony Towns
a 4. Both played more center in 2017-18 than power forward. Last season Antetokounmpo averaged 26.9 points, 10 rebounds, 4.8 assists, 1.5 steals and 1.4 blocks. He made just under 53 percent of his shots from the field and just below 31 percent from three-point range.
When Antetokounmpo was told that his rating is 94 OVR, he joked that he was hoping for 99 OVR. Later, he said he was satisfied with this rating and 94 OVR is good for him because it encourages him to work hard and become stronger and better. In addition, he thought his rating will be higher at the end of the next season because this rating gave him an extra motivation.
Actually, in NBA 2K 18, the initial power of Antetokounmpo was 91 OVR and which updated to 95 gradually. After lebron James joined the Lakers in the west, many media and fans have said that Antetokounmpo is the most outstanding player in the east.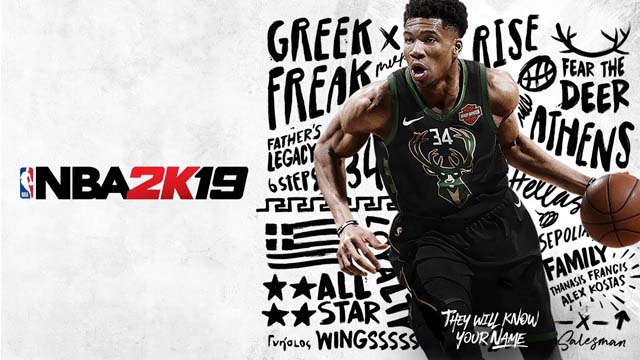 However, that spot probably won't last as we still haven't heard the ratings for
Golden State Warriors
star and back-to-back
NBA Finals MVP
Kevin Durant, Steph Curry, or the Houston Rockets' star and league MVP James Harden. All or at least two of them could and probably should be rated a 95 or higher.
By comparing the image of Antetokounmpo in NBA 2K19 with his image in NBA 2K18, the render is spectacular and easily the biggest improvement from the previous year. And we can say everything is better. The muscle mass, the skin, the face, the hair on his head. It's a complete makeover. I do wish 2K had given the same shoulder with to some of the other players like Leonard. Perhaps we'll see that in later versions.
There is just less than two months until
NBA 2K19 will be available on September 11, 2018 for PlayStation 4, Nintendo Switch, Xbox One and Microsoft Windows
around the world. In addition, the special edition will allow you to play starting Sept. 7 with your pre-order. No matter whether Antetokounmpo will be the Best star in the east, NBA 2K19 is a good game that deserved us to wait and expect. Before you playing the game, now, it is the high time for you to buy or store some game currency and
mmopm.com
provides
Cheap NBA 2K19 MT Coins
whenever you need. For its
100% secure payment and fast speed of transaction
, it is really a good choice for you to consider.