FIFA 19 TOTW 8 Revealed: New Team of The Week Includes Werner, Mertens, Hazard, Blind
EA Sports has just announced the
FIFA 19 Team of the Week 8 lineup
on Wednesday and once again it's got a few Premier League players who were impressive in their real-life on the field contributions at the weekend. As usual, the news of the latest Ultimate Team 23-man squad was unveiled by EA Sports on Twitter and will go live later Wednesday evening. The team of the week includes
West Ham's Felipe Anderson, Belgian star Dries Mertens, and Leicester full-back Ben Chilwell.
Now
mmopm.com
will be walking you through the full lineup of Week 8.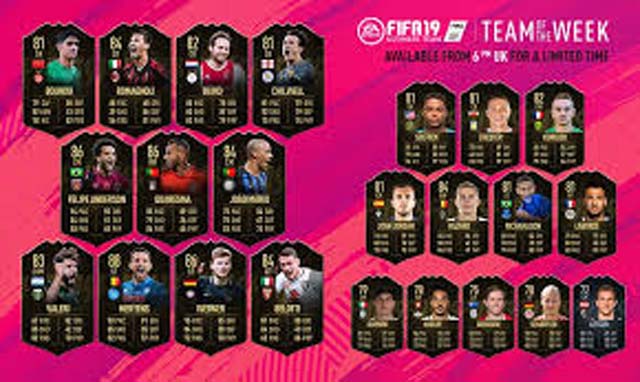 Two of the stars headlining the latest Team of the Week are
Dries Mertens and Felipe Anderson
. Mertens had a brilliant outing for Napoli for scoring three goals and setting up another in the 5-1 win over Empoli. He moved up to an 88 overall in the game. Anderson scored twice in a 4-2 win against Burnley. The Brazilian winger scored twice during the 4-2 victory, easily cementing his place as one of the best performers of the week. He has an 86 overall rating in the game now.
Everton midfielder Richarlison has also been selected after his double against Brighton, with the youngster having racked up six Premier League goals so far this season. Other players who made it onto the FIFA 19 TOTW 8 starting XI include Inter Joao Mario, Daley Blind, Andrea Belotti, and Alessio Romagnoli. If you want to get the best players this week, you buy
Cheap FIFA 19 Coins
from our website:
mmopm.com
, a safe, cheap online in-game currency store.
This Tuesday, EA Sports released
FIFA 19 title update 3
for the PC, with Xbox One and PS4 updates coming in a week, which brings a number of improvements to gameplay. One notable change is the shooting accuracy. For example, when it comes to taking first-time finesse shots, gameplay has been adjusted for the effectiveness of them scoring or not. Basically, the change affects shots based on the angle which the ball is coming into the player. EA mentions that it will only impact the balls that enter from 135 degrees to 225 degrees.
In addition, the latest updates also
unveil some changes to Goalkeepers and Ultimate Team in FIFA 19
. Now keepers should now pick up the ball instead of kicking it forward when they move towards it. Goalies are more likely to dive to intercept the ball after a cross is made. In addition, they will react better to penalty kicks that come right at them or close by. Also, EA addressed the ability of players being able to push the keeper out of the way during a free kick. In the Ultimate, some changes to the Division Rivals pre-match were added in an effort to reduce the difficulty of some players finding a match. They made a few tweaks to some visuals there too. Players will now always see their team displayed on the left side, while their opponent on the right side, regardless of which team is Home or Away. One other note, Career Mode is also faced with new changes. For example, When playing as the manager for the Hyundai A-League, you were always being fired after completion of your first match, regardless of the result. For more updates, you can check the video above.