Will Vegas Golden Knights and Alex Ovechkin Create Miracle Again in NHL 2018-19 Season? How About Chicago Blackhawks?
EA SPORTS NHL 19
will be launched to hockey fans worldwide on
September 14, 2018 on Xbox One and PlayStation 4
. And
NHL 2018-19 Season
will begin at October 3, 2018.
When we talk about the 2017-18 NHL season, the
Vegas Golden Knights
were absolutely the biggest surprise of the 2017-18 season. By reaching the
Stanley Cup Final
in their first season, they shocked the sporting world, even if they fell to the Washington Capitals. For most people, their season was an enormous success that defied all expectations and common sense.
However, in hockey, the
dreaded sophomore slump
is a familiar term which is used to describe a young player struggling to fulfill large expectations set after a strong rookie season. After setting the bar so high in their first year, the Golden Knights may see this on a team level. Perhaps more importantly, how will Vegas' fans respond when the team inevitably faces its first stretch of adversity?
In the last season,
Alex Ovechkin
won his first Stanley Cup victory and achieved his NHL immortality. His celebration was legendary which shed years of disappointment and frustration.As he prepares to turn 33 this year, Ovechkin finally achieved his ultimate goal. Will he be able to play with the same level of fire that we saw before him reaching the summit? There's no question he'll want to repeat it again, but there's a lot to be said about the motivation he had after more than a decade of failure. Will we see some kind of a Stanley Cup hangover just like a few years ago?
Looking further ahead, Ovechkin has already implied that he may be looking to leave the NHL after his current contract expires following the 2020-21 season. If that be proved to be true, how will Ovechkin close out his final couple years in the NHL? By the way, let's expect his performance in
the World of CHEL
in NHL 19.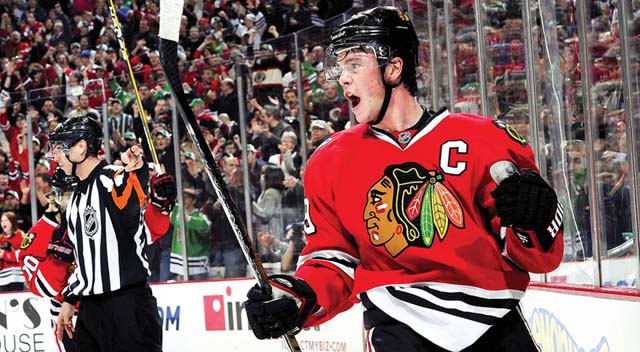 The
Chicago Blackhawks
were ever an NHL dynasty for it had won the Stanley Cup three times between 2009-10 and 2014-15. The list of roster has changed extensively after those championship seasons. Taking examples,
Patrick Sharp
retired;
Marian Hossa
's playing days are over; and the team's core, led by
Patrick Kane
and
Jonathan Toews
, are all 30 or about to turn 30 this season.
What's worse, Toews may have had the worst season of his career in 2017-18 with scoring 20 goals and 52 points. Besides,
Duncan Keith
, 35, wasn't even in the conversation regarding the best defenceman in the league, failing to pick up a
single Norris Trophy
vote for the first time since 2006-07, let alone
Goaltender Corey Crawford
has questions surrounding his health, and backup
Cam Ward
will be making his Blackhawks debut.The window for Chicago Blackhawks to Stanley Cup may not be totally closed yet, but it is a time for the team to prove it's still elite despite an aging roster.
No matter will the performance of Vegas Golden Knights, Alex Ovechkin and Chicago Blackhawks be good or bad, NHL 19 and its 2018-19 season are deserved us to wait and expect.
Mmopm.com
will provide
Cheap NHL 19 Coins
at anytime you need. And it is really a good choice for you for its
100% secure payment and unprecedented discount
!