The Fast and Easy Way to Get Skill boosts And Pack Probabilities Introduction in FIFA Mobile
Skill boosts
, is a new feature that is introduced in Season 2 of FIFA Mobile. In fact, Skill boosts are cards that represent boosts to
five attributes of players
. There are different types of Skill boosts. A skill boost can affect multiple players. The skill boosts are listed in a separate tab in My Team menu.
The basic about Skill Boosts
Skill boosts are cards used for beefing up your players. Leveling up Skill boosts can upgrade the effects of players. There are 20 upgrade levels and each one costs more than the last one. To upgrade a skill boost, players need to collect it multiple types. A skill boost will not affect only attributes but also OVR. When a skill boost is upgraded, the affected players' OVR is also boosted. Besides, upgrading skill boosts gives an XP reward so this is a great way to diversify the leveling up methods. A skill boost that was upgraded to max level 20 is eligible for ranking up. Max level skill boosts will affect team OVR so they are extremely valuable. You can check the video below for more knowledge of skill boosts in FIFA Mobile.
How to get Skill boosts?
You can collect Skill boosts as rewards from all sorts of game activities. For example, you can play the repeatable boiling event, that gives you lots of coins and you get a skill boost like every other time. Complete daily offers using gift points which you can exchange for skill boosts. You can also buy packs containing skill boosts from the store. The Skill Boost Packs costs 20,000 FIFA coins or 100 FIFA points. It contains two unique random skill boosts. The Jumbo Skill Boost Pack costs 2,000 FIFA points and includes 90 skill boosts. The Mega Skill Boost Pack costs 10,000 FIFA points and comes with 500 skill boosts.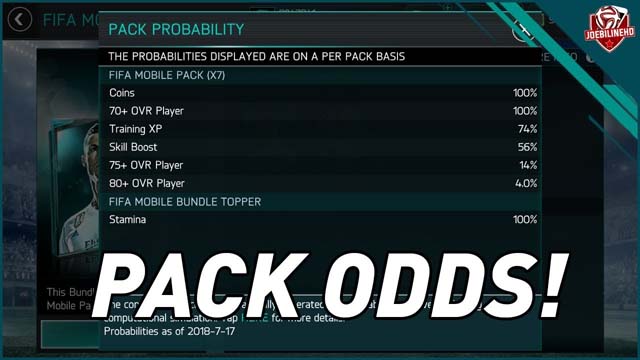 Pack probabilities
All players know that the contents of FIFA Mobile packs are random. All players know this is how the game works. Items are random but they are from a certain set or theme, which you may guess from the pack name. One of the latest additions to the game is the pack probabilities feature.
Players are now able to see the probability of getting items from packs. You can see it tapping "more info" on the store screen. This shows the percentage of occurrence for each item contained in that pack. For example, the Premium Pack that costs 1,000 FIFA points has 100% chance of containing 70+ OVR players, 73% chance for 75+ OVR players, 26% chance for 80+ OVR players, and 3% chance for 83+ OVR players. Players will also notice a message saying that probabilities are bound to a pack and that they are calculated with a simulation. A hundred percent chance means that an item from that category will always drop. For the above example, the Premium Pack is guaranteed to contain a gold player with at least 70 rating but we don't know which player will drop. To unlock more packs, you can buy
Cheap FIFA Mobile Coins
from our website:
mmopm.com
, a fast, safe and cheap online in-game currency store.
The displayed probabilities are for one pack. The process through which probabilities are calculated is unknown to us and it's validated by a simulation that opens lots of packs.