Trove Halloween Themed Event Shadow's Eve 2018 Has Arrived And How to Complete All The Quests And Mounts
Just like any other popular games, as always, Trove also hold a another Halloween themed event titled
Shadow's Eve 2018
this year. Shadow' s Eve 2018 falls upon Trove on October 23, 2018 and the Halloween event runs two full weeks with daily login rewards and new, repeatable outpost adventures. To celebrate the event, this year the spooky celebration is bigger than ever with
an 8 Adventure chain, two weeks of Daily Login Rewards, plus all-new Outpost Adventures
that can be completed every day of the event! Besides, during the adventure, you will be faced with
pumpkin lairs
again. Collect candy corn to unlock fantastic Halloween items, wear goofy costumes, and tame 11 new seasonal mounts .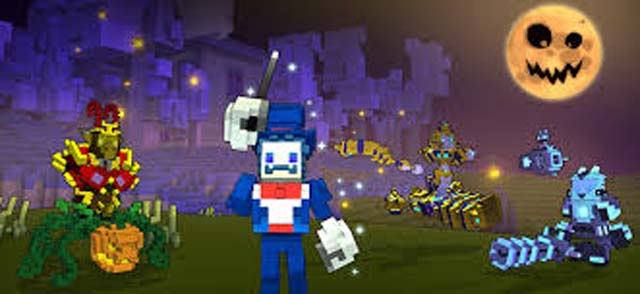 By completing Each of the 8 Shadow' s Eve Adventures or the repeatable Outpost Adventures from Booradly, Spooklia and Skelly which are offered offered by NPC in front of the Pumpkin House in the Trove Hub, players can get a new event exclusive currency called Shadowy Seals. With the Shadow Seals, players can trade at the Shadowy Station in the Hub to craft a unique lootbox and collections. For example, collect 10 Seals to craft the Bewitching Howlug ally. Collect 25 more to craft these gorgeous new Neon Hallowings!
As always, there are lots of Halloween themed items in Shadow's Eve for players to unlock with Candy Corn at the Shadowy Station. This year again you can earn candy corn from Pumkin Lairs which will appear in any biome, including Forbidden Spires. With the candy corn, you can craft Nightmare Mystery Boxes and other creepy collectables at the Shadowy Station. Besides, the last year' s Mystery Box top prizes, the Colossal Chiropteran and the Uncanny Coffin can also be crafted this year. So don't miss the chance this year.
To celebrate the Halloween event, the Autumn Style Unlocker also add some Halloween themed styles such as Freaky Frankie, Moonhowl Mask, Brusque Broom, Bat Bow, and Pumpkin Pounder. In addition, there are three new hat styles for players to unlock during the event. Those hats are Pumpkin Pie-rate Hat, Rainbow Unicorn Wig, and Candy Corn Hood!
To bring more frightfully fun for players during this spooky event, there are new packs for players to unlock now. The Creepy Crawly Cranium Pack and Spooky Swag Bag are already available now for players to buy with credits. So if you want to buy those packs to start your spoopy adventures and unlock the Gourdzilla mount with your friends, come to our website:
mmopm.com
, a trustworthy cheap online in-game currency store, where you can buy the
Cheap Trove Flux
at the cheapest online.
In a world, the road to Halloween must be paved with tricks and treats. To help you complete the Shadow's Eve event 2018 more easily, herein we provide a video for a bit of guidance. You can check it above. The Shadow's Eve only lasts two weeks. It's no time for waiting. Grab your console and experience the spirit of fallen Trovians during Shadow' s Eve with your friends together.